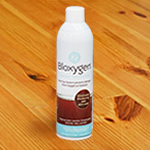 For these products & surface sizes
ORIGINAL
MARINE
URETHANE
H2OLOX
LARGE SURFACE
SMALL SURFACE
Product Details
Extend the shelf-life of your Waterlox finish so you can use it all, not just half.
Prevent changes in product chemistry during storage – store leftovers safely, in the original, labeled container.
Reduce your hazardous waste/product loss.
Eliminate spray gun clogs and jams.
Improve the quality of the final application.
Save time by making finishing projects easier and cleaner.