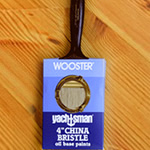 For these products & surface sizes
ORIGINAL
MARINE
URETHANE
LARGE SURFACE
Product Details
Recommended for large projects and cutting in around the perimeter of the floor/room
White China bristle, chisel construction
Soft formulation, velvet feel
Round, brass-plated, steel ferrule
Solid black plastic handle
Brush size is 4″ wide
Manufactured by Wooster
Before using new applicators, "clean" them by removing loose bristles or fibers. Aggressive dry brushing or a paint brush comb may remove any loose bristles. For pads, use a lint roller, wrap in masking tape or run through a dryer cycle to remove any loose fibers.