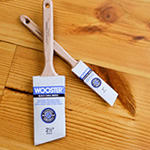 For these products & surface sizes
ORIGINAL
URETHANE
SMALL SURFACE
Product Details
Black China bristle with chisel construction
Soft, fine touch
Recommended for finishing smaller projects.
Brush available in 1″ width for small areas such as table legs, window casing, etc.
Round, rust-resistant, steel ferrule.
Treated maple wood handle.
Manufactured by Wooster®.
Before using new applicators, "clean" them by removing loose bristles or fibers. Aggressive dry brushing or a paint brush comb may remove any loose bristles. For pads, use a lint roller, wrap in masking tape or run through a dryer cycle to remove any loose fibers.