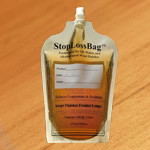 For these products & surface sizes
ORIGINAL
MARINE
URETHANE
H2OLOX
LARGE SURFACE
SMALL SURFACE
Product Details
StopLoss Bag and Cap, 1 each.
Preserve the fresh, off-the-shelf quality of wood finishes. The specially formulated 3-ply construction helps prevent loss of solvents while a gas barrier inhibits oxygen penetration into the bag. Each bag holds 1.05 quarts or 1.0 liters.
Easily dispense a lot or a little into an appropriate wide-mouthed container for applying the varnish. After pouring out the finish needed simply squeeze any bubble(s) out of the bag before tightening the cap.
DESIGNED FOR OIL, WATER & ALCOHOL-BASED WOOD FINISHES. NOT SUITABLE FOR LACQUER.