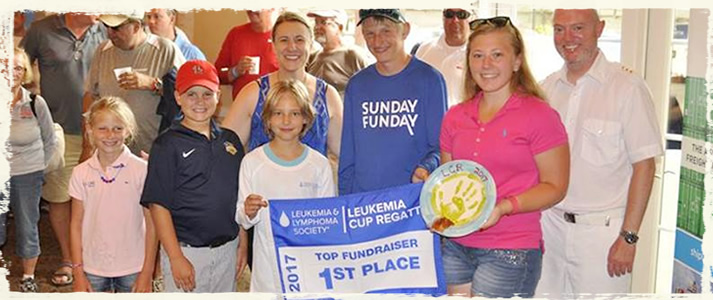 Members of the Waterlox team accepting the 1st Place Top Fundraiser award at the Leukemia Cup Regatta in Cleveland. Photo credit: www.facebook.com/llsnoh/
The Leukemia & Lymphoma Society (LLS) of Northern Ohio held its Leukemia Cup Regatta in July and Waterlox Coatings Corporation was proud to be a sponsor and named the 1st Place Top Fundraiser.
For over 10 years, Waterlox, a leading manufacturer of premium wood finishes, has supported the LLS and its events. The Leukemia Cup Regatta consists of sailing events and raffles to raise funds for finding cures and improving the quality of life for blood cancer patients and their families.
"We have many friends and family battling leukemia and lymphoma. We have made the LLS our fundraising focus and participate in various events throughout the year in Cleveland," said Waterlox Vice President Kellie Hawkins Schaffner. She along with her husband Chip will serve as co-chairs for next year's Regatta.
As a fourth-generation, family-owned business based in Cleveland, Waterlox is also dedicated to helping its local community which has supported it since 1910. Funds raised through LLS events have been awarded to Cleveland-area hospitals and $1 million in direct financial assistance has been distributed to Northern Ohio patients helping pay insurance premiums, co-pay obligations and offset travel related to treatment.
"We feel so proud to support such a worthy organization and look forward to supporting it for many years to come," said Schaffner.
About The Leukemia & Lymphoma Society
The Leukemia & Lymphoma Society is the world's largest voluntary health agency dedicated to blood cancers. Monies raised through special events help fund research and education. Learn more at www.lls.org.
About Waterlox
With passion and pride, Waterlox has been making premium wood finishes in Ohio since 1910, using only the best ingredients. Waterlox formulas literally lock out water from penetrating wood surfaces, while providing a natural, rich finish that preserves the authenticity and inherent beauty of wood. Learn more at www.waterlox.com.