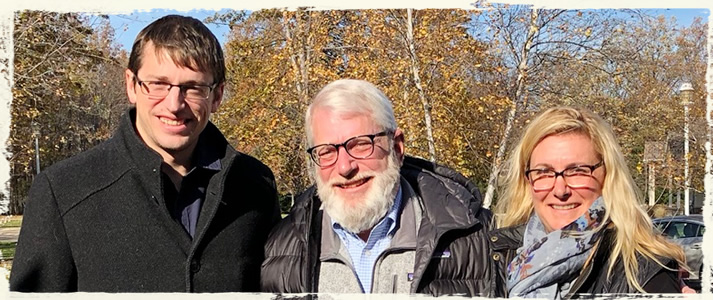 (Left to right) Conor Hawkins, Jay Hawkins, Kellie Hawkins Schaffner
CLEVELAND, OHIO, January 4, 2018 — Waterlox Coatings Corporation, a Cleveland-based manufacturer of premium wood finishes, has promoted Kellie Hawkins Schaffner to President & Chief Executive Officer and Conor Hawkins to Vice President.
Schaffner and Hawkins are the fourth generation of the Hawkins family to continue the family-owned business. Their great-grandfather, R.L. Hawkins, started Waterlox in 1910.
Schaffner is assuming the duties of President & CEO from her father, Jay Hawkins, who recently retired in December after 40 years with the company. She has been with Waterlox since 2000 and most recently served as Vice President, handling daily operations and playing an integral role in expanding the Waterlox product line. Previously, Schaffner held positions as National Sales Manager, Quality Control Lab Manager and Plant Employee at Waterlox. Prior to 2000, she spent time with David Advertising, Educational Structures and KeyBank.
Hawkins has been with Waterlox since 2015 and most recently served as Technical Product Manager, managing plant production and new product development. Prior to Waterlox, he worked at PPG Industries as a Process Engineer and Chemist.
"Conor and I look forward to continuing our family's tradition of creating high quality wood finishing products for many years to come," said Schaffner. "We are so proud and appreciative of the foundation our father, grandfather and great-grandfather have laid. We are excited to build upon that and have exciting plans for 2018."
About Waterlox
With passion and pride, Waterlox has been making premium wood finishes in Ohio since 1910, using only the best ingredients. Waterlox formulas literally lock out water from penetrating wood surfaces, while providing a natural, rich finish that preserves the authenticity and inherent beauty of wood.