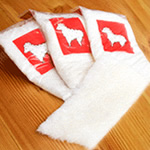 For these products & surface sizes
ORIGINAL
MARINE
LARGE SURFACE
Product Details
100% Lambswool Pads with a tanned back.
Use one pad per coat or clean pads thoroughly after each use with mineral spirits.
For use as a refill for our Lambswool Block & Pad.
Pad refills are sold individually and not in packs.
Before using new applicators, "clean" them by removing loose bristles or fibers. Aggressive dry brushing or a paint brush comb may remove any loose bristles. For pads, use a lint roller, wrap in masking tape or run through a dryer cycle to remove any loose fibers.