The Hawkins family has worked for four generations to provide finishing solutions that enhance and protect the natural beauty of wood.
We began manufacturing Waterlox® products in 1910 by using the best ingredients and our original family formulas. Today, the tradition of quality continues with products that are handmade by our expert staff. Our experience is supported by a continuous dedication to satisfying our customers in the woodworking and wood flooring industries.
Our Humble Beginnings
Waterlox®, a pioneer in the development of the coatings industry, was started in Cleveland, Ohio in 1910 by R.L. Hawkins, Sr. He bought a small paint making operation called the Empire Varnish Company located on East 76th and Woodland. Here, he discovered the values of tung oil and used it to create the specific formulations necessary to produce a full line of interior and exterior paints, varnishes, enamels and stains.
In the 1930s, Empire Varnish acquired the name "Waterlox" and the philosophy behind the product, its applications and range of possibilities. Empire Varnish took all of this newly attained information and applied it to its existing formulas to mark a pivotal point in the company's history, one that made its Waterlox® product what it is today.
In the 1960s, the Empire Varnish Company became Waterlox® Chemical and Coatings Corporation. This decision was made because Waterlox®, the company's star product, was what it was best known for. In fact, everyone had already been calling the company Waterlox®. In 1963, Waterlox® moved to the Passonno Hutcheson building on Meech Avenue, which remains our location today.
Over the years, Waterlox® has expanded its production to manufacture a variety of products, from interior house paint and paint for car running boards to a penetrating sealer, gym floor finish, marine and outdoor wood finish to eco-friendly, low odor finishes. For the most part, we still make our handmade wood finishes the exact same way we did over 100 years ago.
Through the Years
1910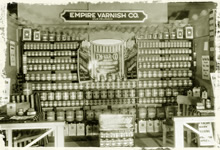 Our Beginnings
R.L. Hawkins, Sr. establishes The Empire Varnish Company to produce a full line of exterior and interior paints, varnish, enamels and stains.
1930s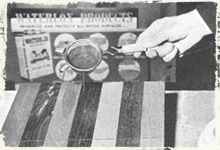 Introducing Waterlox®
Waterlox® debuts with its signature resin and Tung Oil formula to literally lock out water from wood surfaces.
1940s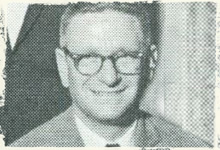 Family Pride
R.L. Hawkins, Jr. (2nd Generation) joins his father's company full-time.
1960s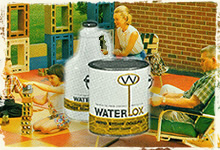 Change and Development
The Empire Varnish Company becomes Waterlox® Chemical and Coatings Corporation. R.L. Hawkins (2nd Generation) takes over as President.
1970s & 1980s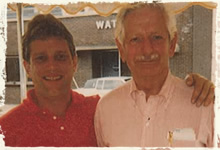 The Next Generation
J.W. Hawkins (3rd Generation) joins the company and becomes president in 1985.
1990s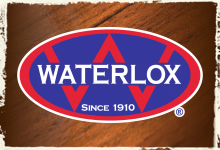 New Name, New Products
A name change to Waterlox® Coatings Corporation signifies a continued commitment to delivering a new expanded product line and a dedication to quality coatings.
2000s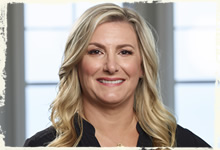 New Look
Waterlox launches a new look for its tung oil line of legendary wood finishes. Kellie Hawkins-Schaffner (4th Generation) joins the company, reaffirming the Hawkins family commitment to quality, value, reliability and knowledge.
2010s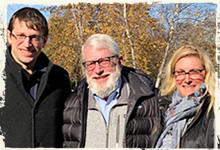 The Fourth Generation
J.W. Hawkins retires and passes the torch to the fourth generation of the Hawkins family. Conor Hawkins (4th Generation) joins the company as Technical Product Manager and later becomes Vice President. Kellie Hawkins Schaffner (4th Generation) takes the helm as President + CEO in 2018.
2020s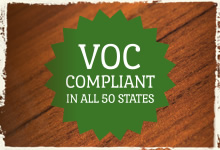 Product Innovation
Waterlox® launches new innovative, green and environmentally-friendly product lines for wood enthusiasts.