Buffer applied coatings are applied with a buffing machine or are hand buffed. These coatings are high solids, so a little goes a long way. These coatings include our TRUETONE and UNIVERSAL Tung Oil Sealer products.
Need help choosing?
Universal Tung Oil Formula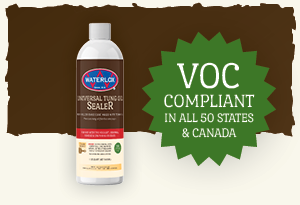 A high solids base coat sealer made with Tung Oil. When used in conjunction with any Waterlox finish, it provides a durable, rich, distinctive finish that is easy to maintain, low odor, low VOC and easy to clean up.
IDEAL FOR: Any project as a base coat sealer under any Waterlox finish.

TrueTone Formula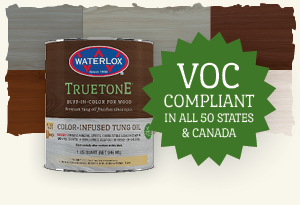 Our TRUETONE Color-Infused Tung Oils can be used as colorants under any of our other clear finishes. Our TRUETONE Buff-In Tung Oil Finish leaves a penetrating oil finish with excellent water and stain resistance.
IDEAL FOR: Any project where a very low gloss, unfinished look is desired.


*Can be used on exterior surfaces if not in direct sun.