A Waterlox finish will deliver superb beauty and protection, allowing you to treasure your wood surfaces for years to come.
Surfaces Perfect for Waterlox
Flooring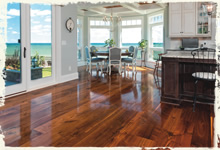 Our interior Waterlox products are designed first and foremost for use on wood flooring. They provide a rich, natural-looking appearance that enhances the wood grain while sealing wood fibers beneath the surface. Waterlox is an excellent choice for wood flooring restoration or refinishing projects.
Countertops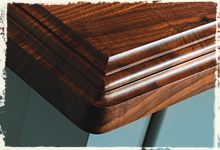 Waterlox products are great options for wood countertops, tabletops and vanities. They provide an incredibly appealing and durable finish that is food-safe after curing and waterproof (does not water spot or leave rings). Waterlox is easy to apply, repair and maintain.
Outdoors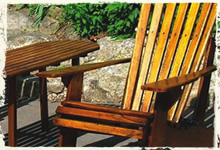 Our exterior Waterlox products are created to withstand the elements. They protect wood surfaces from harsh weather and UV rays while enhancing the beauty of the wood grain. Waterlox is an excellent choice for almost any exterior wood door, bench, boat or woodworking project.
Fine Woodworking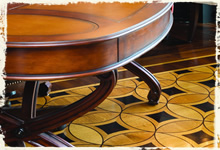 Waterlox products are popular with craftsmen and hobbyists because they enhance the special details, unique designs and old-world craftsmanship of wood projects, giving them a truly distinguished appearance.
Finish Carpentry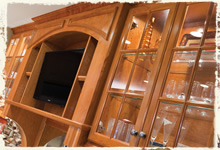 Waterlox products are perfect for detailed finish carpentry projects. It is an excellent choice for trim, ceiling, wall, door, window or furniture projects because it reveals the subtle highlights and intriguing details of wood.