Waterlox® products are perfect for detailed finish carpentry projects. Waterlox® brings out the natural beauty of wood grain and provides a durable, distinguished finish. It is an excellent choice for trim, ceiling, wall, door, window or furniture projects because it is easy to apply, repair and maintain.
Ideal Products for Interior Projects
Ideal Products for Exterior Projects in Direct Sunlight
Let's Get Started!
Doors & Windows
The wood trim around doors and windows, whether inside or out, benefits from Waterlox®'s superior waterproof protection.
Cabinets & Furniture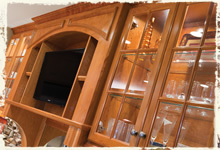 Accentuate unique details of cabinets and furniture, while also protecting them from daily use with Waterlox®.
Ceilings & Walls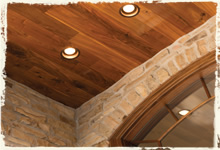 Finishing wood ceilings and walls with Waterlox® will not only preserve them, but also make them pop – creating the focal point of a room.
Vertical Finishing
In general, if you are able to finish your project horizontally, that is the best option for optimal control of the varnish and its film build. If you are finishing large vertical surfaces such as cabinets or doors in place, it is critical to apply Waterlox® in thin coats to avoid runs or sags. Because you are applying thinner coats, you will need more total coats and dry time to complete the project. Spraying Waterlox® is an option for larger projects, but again attention to film build, back brushing to smooth and avoiding any coating from running is important. Smaller projects should always be brushed on. Learn more about Spraying Waterlox®.
You've Spent Hours Perfecting It, Now Protect It
It's time to finish strong with the trusted, go-to sealers, stains and finishes wood enthusiasts choose.
Related Tips & Guides