Our interior Waterlox® products are great options for countertops, tabletops and vanities. They provide wood surfaces with an incredibly appealing and durable finish that is food safe after curing and waterproof (does not water spot or leave rings). Waterlox® is an excellent choice for almost any kitchen, bath or bar project because it is easy to apply, repair and maintain.
Ideal Products for Countertops
Live Edge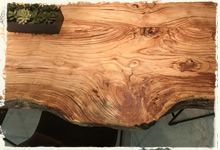 Waterlox® preserves the natural beauty and unique form of live edge countertops. The wood's character and grain will be brought to life.
Butcher Block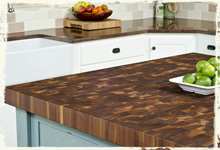 The go-to choice for finishing butcher block countertops is Waterlox® because it provides incredible durability and easy maintenance in highly used areas.
Special Conditions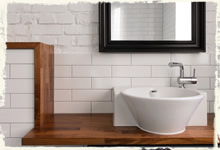 Around sinks, bathrooms and laundry rooms are where Waterlox® products really show their strength. Water is locked out, keeping the wood beautiful for years.
VOC Regulations and Choosing Alternative Products
Depending on the VOC requirements in your area, you may be limited to purchasing VOC compliant products or purchasing non-VOC compliant products in sizes less than a gallon. Our shopping cart and application guide tools on our web site collect your zip code so we can better recommend products in your area.
Let's Get Started!
Not Sure What Products to Use?
Use our "Find Your Finishing System" tool to identify the products, tools and suggested application steps.
Get Started
Need Application Instructions?
Find the appropriate application guide based on the products and surface size you are using.
Find Guide
Running Into Problems?
Search our "Project Help" section to find help topics and tips during all stages of the application process.
Search Now
Related Tips & Guides